Tuesday, January 6th, 2009
---
9:13 am
A few weeks ago I came across http://www.triplux.com/dayzero/. I thought about how every year I make resolutions that I never stick too... or rather never really begin. However 1001 Days works out to be around 2.75 years. It's ambitious yet tangible. Now though, I'm having a hard time making my list. When I'm done, I'll start. Want to see it? Here: http://miriam-101thingsin1001days.blogspot.com/.

So help me out if you feel so inclined!
Friday, December 26th, 2008
---
8:51 am
Post holiday decorating shopping today!! Maybe I'll hit Target first and then the gym. Backwards today...

Christmas found me as usual - wishing I could crawl up in a cave. I came to the conclusion that while I love the Christmas season, even more so now that I have a kiddo, I could go without the actual day. I have great families and I'm so thankful for them, but there are weird family dynamics all over the place from my relationship with the Baby Daddy to the death of my father last year and the arrival of my Mom's "gentleman caller" this year. With family there is always good and bad, but on Christmas day it always just seems to be a bit sharper than the rest of the year.

Here it is the next day and I'm optimistic again. Here are some photos of Sophia opening up her gifts. This was her first Christmas where she was grasping the whole idea of Santa. Like the night before, she got up 14 times before she finally knocked out.


Friday, August 8th, 2008
---
1:35 pm
The following was written right before I left for work. Never posted though. Anyhoo, here you go...

Oh dang.
What a day!
And I still have to go to work?

It's been good and extremely productive for the most part, but moving and setting up a new home keeps one very busy. This morning I was in the backyard replacing the termite stakes that needed replacing and other backyard things while Sophia was playing with her water table when suddenly I hear a screech. I look over and it seems that the kiddo has gotten her index finger stuck in the funnel attachment of the table. She had stuck her finger all the way past the knuckle into this tiny little hole and couldn't get it out. And every time she cried it hurt more. Keeping cool and calm I got some dish soap and poured a little on and tried to twist it off. It wouldn't come off. Meanwhile her finger is getting redder with blood by the second. So I try ice. Maybe it will bring down some of the swelling. No such luck. By this time Sophia is screaming bloody murder and I'm starting to cry myself. She takes off down the hall and tries to barricade herself in my bathroom in my room. That part was funny. On her way there, with her good hand she grabs some raisins. Supplies perhaps? Was she going to be in there for the long haul? I got her out, but she wouldn't let me anywhere near the finger.
I hate to see my baby hurt and then I start thinking what if she loses her finger? Do I take her to the ER? Is this a reason to call 911? I call my mom. I call Sophia's Godmother Susan. I call Tomas, who's at the ocean. The final decision rests on me. Oh God. I was panicky and I decide to take her to the ER. On the way to the ER, Tomas calls me back and says to try oil. In my panic, I didn't think of that. Why didn't I think of that? And since I was closer to his parents I decided to go there. But they didn't answer so I turn around and head home. Unbeknownst to me Alex and Maria were right on my tail as they pulled up right behind me in my driveway. Sophia, who, exhausted from all the crying knocked out in the back on the way, woke and realized that we were not at the Dr and the screaming started all over again. She loves the grandparents so she went straight to them. And then grandpa pulled it right off. He just squeezed her finger and voila. I can't believe I was going to take her to the ER. Could you imagine? Sophia was still emotional because she was tired, and the screaming started all over again because grandma and grandpa wanted to go and she wasn't about to let them go without her. She won and wound up leaving with them. Cool. I was looking forward to our routine today, but this after this morning the routine took a turn and Alex and Maria taking her was a blessing. But when they take her like this, I also feel guilty. If she wears me out, imagine what does to them! I won't see her until tomorrow morning.
Monday, August 4th, 2008
---
7:29 am
Check out my public update post over here: myspace.com/lotus75.

This however is here.





I made these while I was queing on the barbie. It was just me.

Rather short and quick, but I must be off to work.
Tuesday, May 20th, 2008
---
10:01 am
Can we talk about potty training? Cause this is what me and the kiddo are doing today. I'm going cold turkey and Sophia's wearing her Elmo "chonies". I was calling them big girl panties and she's correcting me saying - chonies, chonies! So far she's peed running to the bathroom, standing on her step stool, and in my closet. It's only 10 in the morning. Now we're watching the Elmo Uses the Potty DVD and she's already run to the bathroom to sit on the toilet...for a sticker. I'm letting her chose a sticker to put on her potty chart when she has to go. This morning I was thinking that she was just going to go. I realized I'm expecting to much... I have a feeling this sitting on the toilet thing might take a while! I have a feeling she's going to pee on herself and all over the house today.

Update: she's peed in front of the kitchen window while I talked to the gardeners.
Sunday, May 18th, 2008
---
11:42 pm
finally...

Time to bligity blog! It's been awhile and there's been lots to write about, but every time I sit down to do so, I don't. But there are a few things I need to touch on, especially after what happend at church this morning:

For about 3 months now I've been going to The Well. In my search for a church The Well was really only the second one I had visited. I realized that two Sundays at this church was probably not going to be enough for me to know if this was my place, so I decided to plant myself for awhile. The worship atmosphere is great. It's been awhile since I've sat in worship with other believers. I struggle because worship can be so emotionally charged, and I don't want my return to faith to be all emotional. But I'm also having to accept that my emotions are of God and that it's ok to cry. During worship, whether it be at church or at home. I can't help but cry. I think it's probably one of the times I'm most broken before God. I like the children's ministry. Sophia loves Sunday School and I'm so happy that she does too. I want her to grow up with a spiritual side that leads her. The Well is good for that at this point. I like the teaching...for the most part. Sunday's messages have been focusing on the book of John for the past couple of months. Like I said, for the most part I walk away with something to think about as well as a positive challenge. However, this Sunday the message was nothing anywhere near John. Pastor Brad even spoke "live" to us. (Usually it's recorded. There's 5 services and it's alot for one pastor). Anyway, today the message was all about calling out a fellow believer in "sin". It was right on. We just don't cut people off because the go on "sinning". It's important to let them know where we stand, but to love them just the same. And then at the end of the sermon Pastor Brad got to the real point of the sermon. I guess there were two people on leadership that had an "inappropriate" relationship with each other. They're both married and on leadership. Ugh. It was ugly. This is where I struggle. The pastor named them. HE NAMED THEM! Oh my god. I know the girl too. Not closely, but for about 10 years now. I can't believed he named them! He went on to say that he would love them when they came back and yada, yada, yada. If that was me, I would never set foot back in that church again! If anything they should have just stepped down and that would be that. The more I think about it, the more turned off I am about the church. He named them! That's none of our business. People fuck up. That's between them, their spouses, and God. There are a total of 6 services that The Well. That's at least 600 people, if not more, that now know that these two people cheated on their spouses. Oh no. I'm done. While I was sitting there and this was going on, I could see where the pastor was coming from, I just didn't think it was right. This was the Sunday that I was going to go to the information booth to get just a bit more involved. I'm not so sure now. As a matter of fact, I'm positive of it. I'm a bit bummed too. Finding a good church is hard.

After church Sophia and I went to Target to shop for Potty Training supplies. It's that time. She's going to be 3 in a little over a month and soon they aren't going to be making diapers big enough to fit her...unless she's down with the Depends. But we're not going to go there. I'm excited. I let her pick out her potty seat and reward stickers. We're going start on Tuesday...here goes! While at Target I ran into my old roomie Trisha...and her hubby Dan and two kiddos. My, how have times changed! Trisha no longer works her 9 - 5 so we'll be spending alot more time together. She also invited me to her church, which I'll definetly be checking out next Sunday. I miss Trisha! We've grown up, but not necessarily apart. She became a laywer. Like one that works for the DA's office. Cool, huh? But she's my friend that makes me giggle just because and I'm so excited that she's got so much more time on her hands now.

I should just end things now. It's late, I'm tired.

x-posted to myspace/lotus75.com
Saturday, April 12th, 2008
---
8:13 pm
So I can't decide what to watch right now: My Big Fat Greek Wedding or Super Troopers. I love the Broken Lizard dudes, but then again I'm always in the mood for a feel good sappy love story. Oh what to do? Blog for sure. I'm in the mood.

I worked today. Linda asked me if I would work the day instead of my evening so I said sure. I hate giving up my Saturday nights. If I close, it's a money maker. And if I don't close I get off at decent hour and enjoy myself. I gave it up, kind of begrudgingly. And then, I totally kicked ass. Yeehaw. I'm going to have to give a shout out to loaded real estate people who like to buy rounds for everyone and then tip enough to pay my utilities for the next couple of months. Gracias. And now I'm home eating pizza and watching My Big Fat Greek Wedding. I think the sappy love story won out. Why do I do this? Despite recent events I'll always be a sappy girl. It could also be the PMS.

One vacation down, one to go! And Gawd, the "adult" vacation was awesome. It was a perfect beginning of the week vacation complete with my special lady friends, shopping, San Francisco, lots of libations, great food, and a very "real" boobies at the Ani D. show. Lots happend. Maybe I should record the highlights in snippets:

-Olindas Restruant and Bar on the 152 in Los Banos serves up $3.50 shots of Patron and Bushmills. The owner was pouring. Somehow I think he might be unaware of how much is liquor is costing him. Olindas is Peruvian. It didn't look fancy but the special board in the foyer looked awesome. Peruvian food...in Los Banos? I'm going to have to eat there someday. And before I go on, thanks to DeeDee, our super sober driver. She rocks.

-Betelnut was yummy. But not as yummy as it could have been. It was kind of a glorified PF Changs, but then again, even though it's just a fancy chain , I love PF Changs. Yum. On night number 2 we ate at Osha, this awesome Thai place across the street from Betelnut. Non-descript from the outside, very posh and hip on the inside. And the food...perfecto. Except for the duckrolls. I almost forgot about those. They were wrapped in tortillas. At a thai place? Other than that, everything was awesome. Silver noodle salad, braised short ribs, Sea Bass in a hot pot, Pad Thai, and Lemon Grass Beef. It was all flavorful with just enough spice to make you sweat only a little but not to turn your nose into a leaky faucet. This weekend we had major food foreplay all weekend long.

-We stayed at the Chealsea Motorlodge in Cow Hollow. For years I've been all about staying at boutique hotels. They're so charming and unique, right? Well, they are. But they can also be cramped and minimal. I've also found that boutique also means "crappy hotel done over to attract young hipsters". This time we stayed a hotel right around the Marina District. It was comfortable and our room was conveniently located near to the ice machine.

- My special lady friends are the best! Being the rockstars they are, they were in the city only two weeks before to see the Black Crows. They put me to shame: I crashed out both nights by 2. My heartburn and chronic tummy issues kept me from drinking too much, so both mornings I was bright eyed and bushy tailed while they did what people on vacation do - sleep in until noon. Morning time was good for me. I walked around and explored. I had eggs benedict in the window of a quaint little cafe and bought $100 worth of politically correct bath products. Next time I'm going to take full advantage of my sleeping beauties and go to a spa. God bless San Francisco.

-Ani was amazing as always. I've seen her before. Everytime I go it's a whole different experience. As she grows, so does her music, and then so do I. At one point this cute little thing all tatted up like the hipster she was with her hair up in two little pom poms bounds over to me, hugs me and wishes me a "happy Ani". Um thanks. I went along with it. She was cute and I'm sure I was probably like that at one point as well. The highlight of the show was when Animal Prufrock came out on stage and rocked with Ani to Shameless. It was a very raw moment. She danced like the madwoman that she is spoke the song with her very presence on the stage. I'm just going to say this. Butch boobies. That moment made me proud to be a female and to be in the body that I have.

-Ani played at the Fillmore. That place was incredible. So full of history. I'm so going back the next time somebody that I 'need' to see plays.

- One more thing about our trip. We went on the days that the torch was passing through San Francisco. And what a ruckus it was. However, that's the beauty of our country. We are free to express ourselves without the fear of being kidnapped and imprisoned. We are also free to worship who we want to worship. I feel terribly for the Tibeten people. And what about those in Dafur? What the hell are WE doing about it?

- Thanks to my homegirls. You ladies are amazing. Thanks for reminding me what it's like to vacation and to take advantage of the good things in life. I know you read this so it's out there. You girls hold a very special place in my heart.


Next week it's the family vacation in Monterey. And I'm equally excited, if not more about that one. Me, Sophia, and my Mom will be staying at the Sea Breeze Inn at Pacific Grove for two whole nights so that we can visit the Aquarium in Monterey on the second day and then maybe pop over to Carmel before we head home. I'm looking forward to showing Sophia the ocean. She went when she was a year old for a night for the 4th of July. It was a little crazy. Let's just say at one point (somewhere around 2 in the morning) Tomas put her in the car and drove her down the 101 until she passed out. It kind of scared us from the family vacations for awhile. However now, I'm ready again and I think she'll be just fine.
Tuesday, March 25th, 2008
---
2:53 pm
Yesterday.

I worked as I do every Monday. I even went in early because we had a party of 75 and I didn't want to get caught up in trying to inventory and pour drinks at the same time. No such thing though. It was the reception for a funeral and the back dining room smelled of a retirement home. They weren't drinkers AT ALL. The servers made $179 from the party, I made $4. Whatever. So I caught up on cleaning jobs, ordering booze and stocking glasses. However what I didn't make in tips I made up for in conversation since that's usually what takes place at a bar.
Every two or three weeks there are these cousins that will come in for a couple of beers afterwork. Basically they're just there to shoot the shit for one or two beers and then they head home. A couple of times Al (who's maybe in his mid 50's) has brought his wife and son with him. They all sit at the bar, not very long, but they have a good time. They laugh, the wife gets annoyed, but she likes it and the son just hangs. When Al first introduced his family he was very matter of fact about his son. He says to me, "He's had an accident. He's not normal. He's cool though". Just watching him, he seemed to have the mind of a child. I wondered what happend.
Until yesterday.
Al and his cousin, Moses come in. They're on their second round and I'm on my way out and I ask about his family. I can't even remember how we got on the subject of his son. But he tells me. I think we got on the subject because his son and I are the same age. His kid was very smart, graduating high school at 15. He went on to work at Save Mart and to get married. And then one day shortly after he was married he caught his wife cheating on him with his best friend. He hung himself. Al found him and he was still alive, but the damage had been done. And now Al and his wife take care of him. They had him in a home but they couldn't trust the people there so now he's with them. Al cried and I cried. He said he hadn't really cried about it at all. It was such a powerful experience, being allowed to know how much he loves his family. My heart was so sad for Al an his wife. I thought about how much I love Sophia.

Today.

I went to the gym! And I did a total workout...minus the sit-ups. I power-walked, I squated, I lunged, I pressed and I lifted. I'm going to feel it tomorrow for sure. I love the way exercise makes me feel when I'm doing it consistently. I'm proud of myself today!

After the gym Sophia and I met Arden and Owen in the park. Sophia just loved Owen. It was cool to see her want to help. She kept saying,"How cuuuute!" I can't believe how much she talks now - like full on compound sentences! She's napping now, hopefully for another hour and then we'll go to gymnastics.

Tonight.

Dinner with the foodies! Well I wouldn't really call us foodies more like people who like to eat, but it's me, Rena, Mary, and Jason and then other people if they want to come. We all work(ed) together and want to go and have someone serve us. We usually like to try new places. Last time it was Marsol. Tonight, it's the Daily Grill. Yummo and I like my friends.


In Two Weeks.

I'm going to see Ani DiFranco at the Filmore with the ladies. So excited.
Saturday, March 22nd, 2008
---
1:38 am
Tonight when I came on to my shift all my regulars did the wave and then applauded as I put my stuff away. What a great way to start a shift!
Thursday, February 28th, 2008
---
2:23 pm
- Attack of the Rabid Mothers or My Day At the Park
Oh my Gawd. I was at the park with Sophia today and experienced a couple of situations that made me realize how different perfect strangers can be from me. I take my kiddo to the park on beautiful days like this so that she can play in the sandbox barefoot. She loves the way the sand feels between her toes. Don't we all? (I'm thinking of taking her to the ocean when me and my mom go for that very reason). Anyway being the only child that she is, she's having a difficult time grasping the concept of sharing. So every time we go to the sandbox I tell her that she has to let other's play with her things when she's not playing with them. They can even play together. Sometimes she's for it and sometimes she's absolutly not into it. Most of the time all the other parents in the vicinity chime in saying they relate and then it starts a conversation. Those are the good days. And then there are days like today. Sophia and I had just left the sandbox. She left her toys behind as that is our first stop and she's got the rest of the park to enjoy. We were over by the waterfall (which is currently dry) and I hear and see this older lady saying, "excuse me, excuse me! Give me that back right now!" and she grabs a bucket out of this little boy's hand. He was a little taken aback but more than less unfazed by the whole situation. Some other Mom walks over and hands him a toy and then everyone has to explain to their toddlers who just witnessed this display why some people just don't want to share. She did more than just talk to a child, she overreacted just a bit and set a buzz of gossip over the park...

Which brings me to the second experience. A bit after the non sharing crazy lady, I overheard these two moms as I was passing them, laughing about the situation as they watched their boys by the basketball courts. Apparently the crazy lady's grandkids had left their toys and weren't playing with them at all and she didn't want anyone else playing with them either I guess. The ladies laughing about the situation were funny. They seemed to be the moms at the park I would most likely connect with...then again, maybe not. I had followed Sophia down to the basketball courts to watch her try to roll down the hill like Superwoman. The two little boys were throwing their snacks all over the ground and then one of them just tosses his baggie on the ground. He couldn't of been more than 6 or 7 years old. I say, "I saw that". He says "So". And then it goes on like this, with me saying -
Maybe you should pick that up.
No.
Your Mother's right over there.
So.
Do you need me to tell her?
Yes.

At that point his mom comes over (the one I thought I could connect with) and asks if there's a problem. I tell her and she just looks at him and lets him run away. She turns to me and says that she was planning on cleaning up after her kids so no worries. And she turns around in huff and walks away. I think she got defensive...like I was being critical of her parenting skills. I just couldn't look away when he littered like that. That's the very thing that I get Sophia to not do. Anyway, today my lesson was...Do not attempt to parent other people's children.

I need to find a playgroup...or go back to the gym.

x-posted to myspace.
Wednesday, February 27th, 2008
---
10:20 pm
Holy fricken moly, Kimya Dawson is coming to the San Joaquin! Howie and Sons in Visalia, April 28th. How can we get her to come to Fresno? Help me out music people!
Wednesday, February 13th, 2008
---
9:35 am
- just a quick one
Sophia's contribution to her outfit this morning.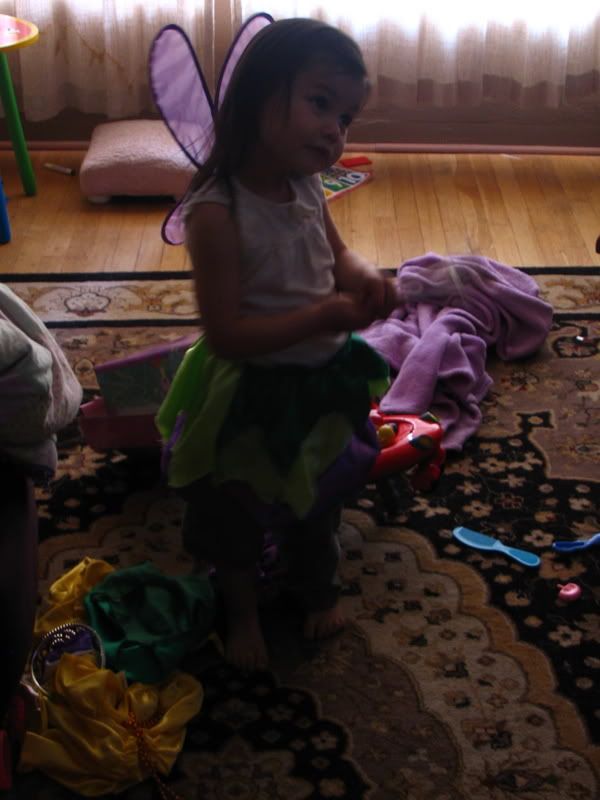 Saturday, January 26th, 2008
---
1:16 pm
Damn I feel good! I think I had food poisoning yesterday...like the worst ever. I went for my normal once a week fix of pho before picking up my kiddo and within an hour of bringing her home I was worshiping the porcelain godess...for hours. Sophia knew what to do. She kept screaming, "bucket, bucket!" every time I went to puke. That's my kiddo!
Wednesday, January 16th, 2008
---
10:19 am
My posts have been sooooo negative lately. Yucko! There's no denying that things have truly sucked, but I can't be this poopy forever. My friend Devoya has a really cool blog on myspace. With the positives there come the negatives. And it's ok. Things suck and it's ok to talk about them but in her blogs, she counters the negative with more positve. So...

things to be happy about today:

- the gym
- feeding the ducks with Sophia
- Sophia's nap
- dinner with Sabrina and Keil.
- cleaning my room
Wednesday, November 21st, 2007
---
6:08 pm
dear invisible people of the internet, i need a fucking break.
Monday, November 5th, 2007
---
8:50 pm
- bye bye books
Ok, I know I spoke of this months ago, but tonight I'm tackling it for real. I'm going to thin out my books so that my shelves don't look like a dumping ground for old text books. How do I decide what goes in my cannon? Help me out?

So I'm going to also have to tackle this computer desk area. It's rediculous with clutter. Where do you store your DVDs?
Monday, August 27th, 2007
---
12:49 am
I need new music. What's everybody listening to these days? Throw it at me. I'm ready.
Tuesday, July 17th, 2007
---
10:39 pm
- Half Dome
July 16 (Half of this was typed yesterday. Photobucket went down in the middle of posting so here's the finished product.

I didn't do it!!!! But I still feel great because I hiked 16 loooong miles yesterday. Training paid off too - I kept a slow steady pace to the base of the steps before the dome. We stopped here and there, but never for longer than 15 minutes. I never got to the point physically where I felt like I couldn't do it anymore. But when I got to those steps - actually I think it began when I saw the Dome for the first time, I had a mini panic attack. What if I fell? Who would be Sophia's mommy? That's what I was scared of the most...

Here's my story in pictures:

..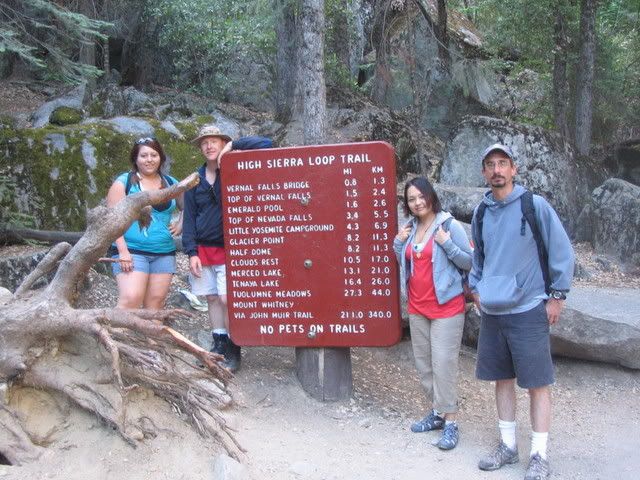 </a>">
Allyssa, Bruk, Julie, and Alan. We started out at 8:15. The others were ahead of us by 30 minutes...blasted parking! I was bummed we didn't start out as a group, but in the end, it all worked out.


..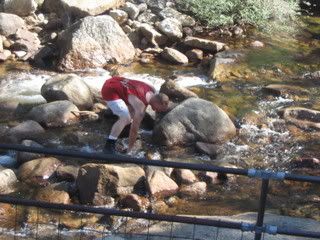 </a>">
Bruk dunks his head at the top of Vernal Falls.

..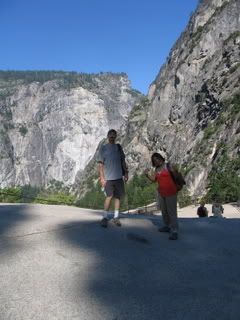 </a>">
Alan and Julie (feeling ubercool) at the top of Vernal Falls

..
</a>">
I think rounding the corner and seeing this is when I first started feeling like I didn't want to do this anymore. I'm going to climb that???

..
</a>">
Nevada falls, 4 miles into the hike. So beautiful!

..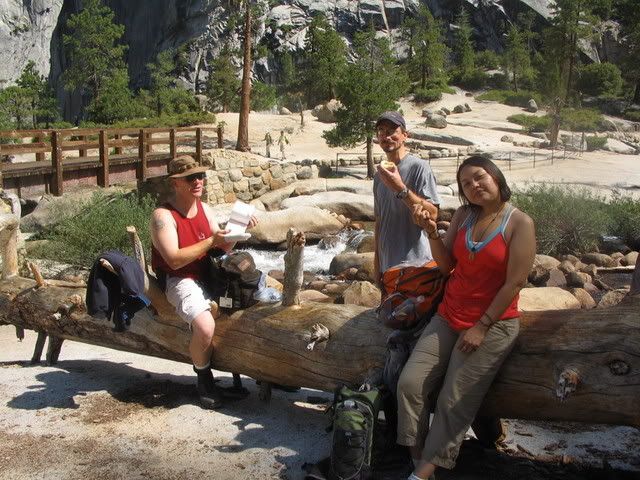 </a>">
Lunch time. Top of Nevada Falls. I make phone calls to report that we lost Allyssa somewhere along the way. Turns out she took the Muir trail to the top...Yay Allyssa!


..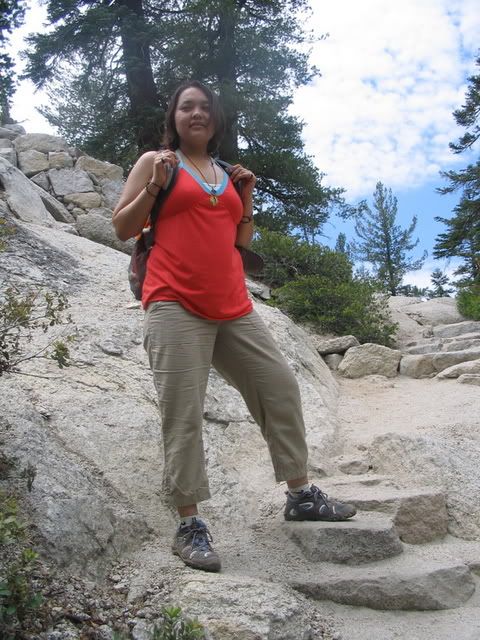 </a>">
This is where Julie and I split. She's beginning her ascent up the steps to the cables. I'm taking the picture sitting down, deciding that I'm ok with not going to the top.


You're kidding me! I'm right here, in the middle of my post and photobucket goes down. Just a few more at this point...like my incredibly dirty feet.

Alright - fast forward, gotta finish this thing.

Here's what my legs looked like when I was done...
..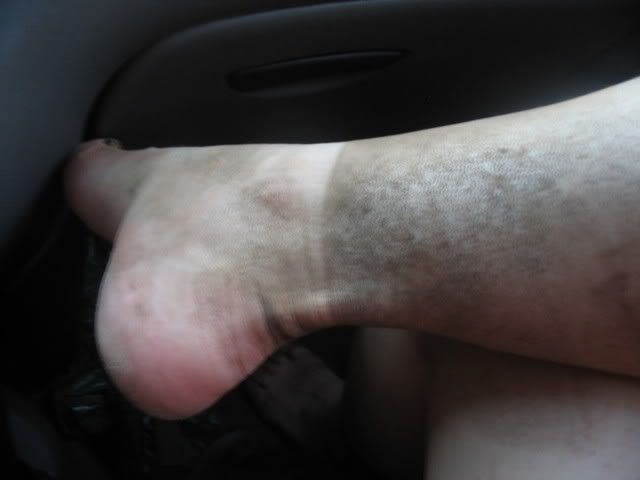 </a>">
And yes, they were clean shaven when I started.

..
</a>">
So this is what I sat staring at while the others were on their way to the top. That's just high! And now, two days later, I regret it. Of course I do! Then on the other hand it was just so freaking high! I should have done it. Physically I was fine. It was no breeze and am I sore now, but the cardio part wasn't an issue. At times when I was hiking I felt like I was getting into a zen sort of meditation. It was good...

..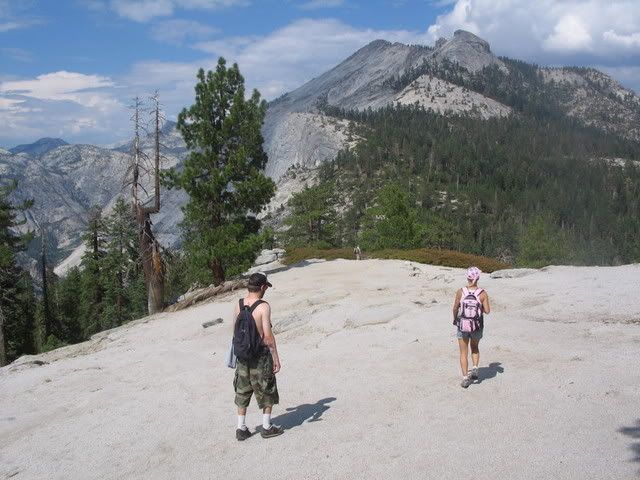 </a>">
Keith and Melissa, on our way down.

But not before Jeremy and Julie take time to smell the trees. I had no idea that Ponderosa Pine smells like butterscotch.
..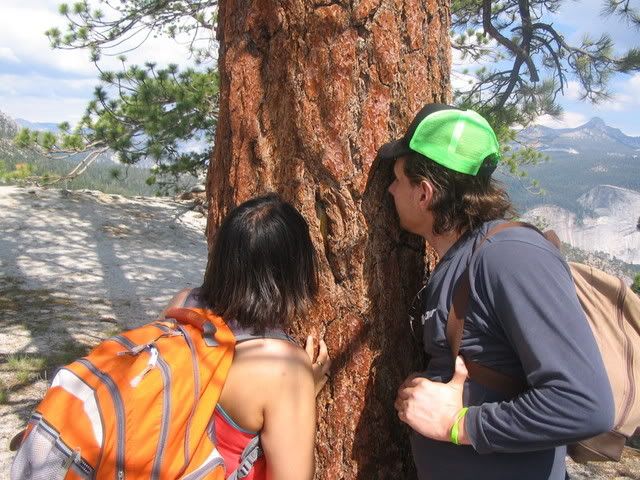 </a>">

Hey look, it's Julie again! I just realized that I have no pictures of me in the group. But I was there, my aching behind says so. This is Julie, elated that we're back in civilization and she can have her Non-fat, Sugar-free, Cinnamon Dolce Grande Latte. I'm drinking a Non-Fat Iced Rasberry Mocha myself. Tasty. Everyone else went for Pizza and Beer in Curry Village. Julie and I hobled back to the car for Pizza and Newcastle at home. It was soooo good.
Here's Julie...
..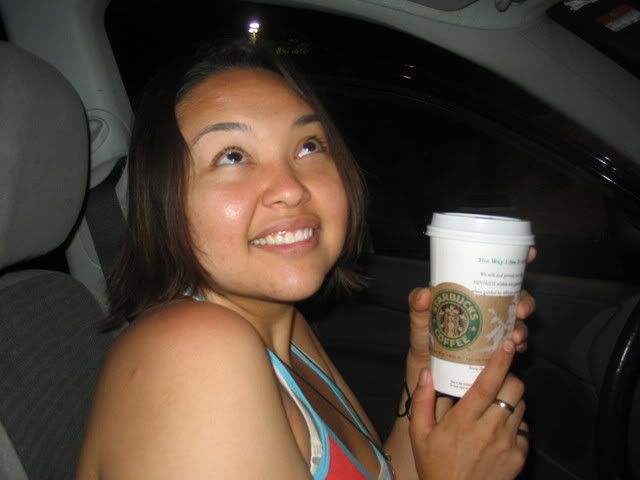 </a>">

What a great weekend. I met my physical goal. Even if it wasn't to the top, I still hiked 16 miles in one day. I feel like I want to run a marathon...but I'll start out with the 5K first.
Tuesday, May 22nd, 2007
---
9:23 pm
- Great for a glossy coat!
Or something to the extent of that. I packed for this weekend kind of on the fly. When it comes right down to it, I just sort of didn't make packing a priority. So naturally I wind up forgetting some of my basic toiletries - shampoo and conditioner. I need that stuff. But here I think, I'll be fine, I'm sure there's a supply in the shower. Anyhoo, there was. It was more like an arsenal. So fine, these boys won't mind, I picked one and lathered up real good. As I'm lathering I'm noticing that clean smelling just washed doggy smell. So I pick up the bottle and the last bullet on the label says - "Garantees a glossy coat". Dang it. Needless to say, my hair was stunningly soft all day. I received compliments.
2:33 pm
- where do they put thier stuff?
This weekend was awesome! Last time I went out of town was December - to my girlfriend's wedding for a night in Half Moon Bay. That was only one night though and I left at daybreak to come home to Sophia before I had to be at work. So now, 5 months later I piled into Shell's brand new Saturn SUV with the ladies to see the Indigo Girls at Long Beach Gay Pride. The Indigo Girls were great. They hit every song I wanted to hear. During the encore I said to Cynthia that all I needed to hear was Gallileo and bam! It was their final song. Perfection.

OOOO, and then there were our accomodations. We stayed with Scott and Tim, friends of the girls. I was a little nervous when Cynthia was telling me that it was a studio loft and that you had to use a ladder to get into the guest bed. But when we arrived she had failed to mention that it was a 1700 sq ft loft decorated and designed to entertain the masses. The place looked like a showroom. In fact, the guys had submitted pictures of thier home to be used in photo shoots or things in media. Neato huh? Here's the thing. Where do they put their stuff? Everything seems to just have a place. How is it that everything at my place seems to be busting out at the seems? For me and Linda, that was the question of the weekend. Where do they put thier stuff?

This was a great weekend. Scott and Tim were awesome hosts. Thank God for girlfriends.

On to being healthy. I really did try behave myself this weekend. We did a heck of alot of walking, but when it was time to eat, I ate very well. I went back to the gym today to meet with Mark, but he's had to take some time away for a family emergency. I decided to plug away and was on the treadmill warming up for my circuit. 25 minutes into it Sophia poops and I have to go change her. I never made it back because once she sees me, she thinks we're going. Maybe I'll go for a walk this evening.

Sophia's sleeping so maybe I should be showering right now. More later.